Since I faced 3 flights that started at 8:30am in Oklahoma City, Oklahoma and ended at 10:30pm in Anchorage, Alaska, I prayed that I would have a chance to share Jesus with my numerous seat mates. As I checked in I asked American Airlines for an aisle seat for the 6+ hour flight from Dallas to Anchorage. They told me that I'd have to sit in the middle seat. I ended up being put between two women, so I greeted the white haired one who looked close to my age, but she didn't respond. The younger woman on my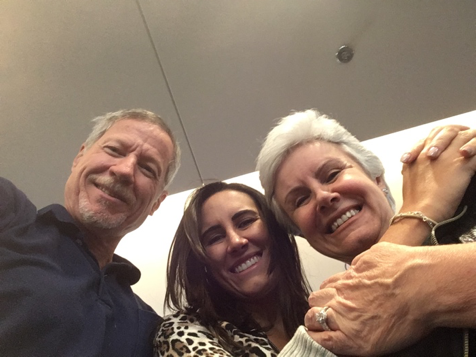 left said, "Oh, my mother doesn't speak English". I then offered to trade places with the mom so I could sit in the aisle, but the mom evidently wanted that seat. It turned out that 31 year old Merila and her mom were from Brazil and were heading to Anchorage to meet up with Merila's Brazilian dad who had flown from Brazil to drive around Alaska on his Harley Davidson motorcycle. Merila's English was very good and we started to chat … that conversation lasted for three hours before we took a break!
Like most Brazilians, Merila was raised as a Catholic, but when she was 9 years old her mother came to Christ and was able to influence her three children in the faith. The father, however, after a period of time was very opposing and didn't allow the mother or children to attend a Protestant church. The overall affect was that Merila's younger siblings fell away and the mother's walk with God was stifled.
As I heard her story I thought of my Soularium app on my iPhone and she went through it faithfully. All of her observations were deeply spiritual and I could see that she had a keen mind and that she was willing to open up about her journey with Christ. I learned that she had a graduate degree in business and since her family ran a "Dollar General Store" type chain in Brazil, she had traveled to many countries seeking merchandise and had even been to Thailand. Merila explained that she had been through two relationships with men that didn't work out and was at a turning point in her life. Somehow the story of Ruth seemed the right story to tell her and I did a full Simply the Story type treatment of chapter 1. Then I showed her the list of stories I'm always working on and asked her if she'd like to hear one of them. She picked John 4 and we went through that as well. As we talked, Merila would periodically tell her mom in Portuguese what was going on. When we came to applications for these stories more information about her difficult journey with Christ became evident, especially in relation to her family members.
Since we had six hours on the plane, I decided to review the Walk Thru the Old Testament that I planned to teach in Kodiak in a couple of days. Merila listened attentively to this presentation as well. As we parted we exchanged contact information and I'm planning to send her follow-up material. Like I often do, I reminded Merila me sitting next to her was no accident and that it was a God appointed conversation in which God was seeking to speak to her and encourage her … I know I for sure was encouraged and will endeavor to pray for other "Merilas" of this world.
My last leg from Anchorage to Kodiak Island was on a smaller turbo prop plane and so all 25 of us passengers all sat in a small waiting room for our flight on Raven Air. I overheard the a couple from Kansas talking with a young man that revealed that he was from Oklahoma. Time came to line up and board the plane (yet there was no security check whatsoever … a first for me) which was open seating and I found a place next to this young man. Twenty-three year old Chase was flying to Kodiak to work on a fishing boat for three months. He had just finished 3.5 years in the Army as a diesel mechanic in New York and was making some money before settling down back in Oklahoma. I immediately thought of the TV program "Deadliest Catch" and wanted to know if he understood the job and risks involved.
This started a good conversation and a chance to use Soularium once again. As is often true, talking about the pictures revealed various aspects of Chase's past which had been rocky due to a difficult divorce when Chase was a teenager. The most touching story he told me followed a painful altercation with his dad following the divorce which caused Chase great pain. When he got to his bedroom he reached rand
omly for a Bible verse for some type of comfort and read the first verse on the page – 1 Chron. 29:11. Chase's mom sensed her son my be struggling and knocked on the door to check on him. Chase quickly closed the Bible and put it under his pillow. His mom noticed that he had been crying and when he told her why, she said, "You know, I have a special verse I turn to when I need comfort" … and she quoted 1 Chron. 29:11!. Both of them burst into tears and Chase counts that event as a real turning point in his walk with Christ. The final picture Chase chose was a set of pottery vessels, which he said reminded him of how God was presently "molding" his life for the future. With that I immediately thought of Jeremiah 18:1-6, a narrative that I know and have used before. Chase was amazed that this connection and thanked me over and over for the conversation … just then the plane touched down in Kodiak. Titus, my son, who lives in Kodiak and works as a bush pilot with Island Air picked me up. There was no taxi or transportation at the small airport and Chase didn't really know where he was staying. So, Titus traced down his lodging and we took him into town. Chase gave me his contact information as well and I hope to follow-up this young man with more Bible materials.